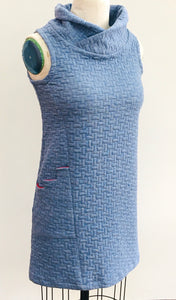 This quilted Lt. denim blue sleeveless dress with an overlapping collar and step pocket contrasted with red, is the ideal layering piece as it works on its own or over a shirt or thin sweater. Even looks good over jeans.
Easy wearable that extends the wardrobe and gives a little warmth.
Cotton, poly, spandex blend
Wash cool and hang to dry for best results.